All of us can appreciate the importance of education wherever it may be. However, e-learning training has benefits that makes it more powerful than in-person classes.
Whether you are a student, employee, teacher, boss or simply looking to learn something new; we can all appreciate the importance of education. Here at VMP eLearning we love a good quote and so as Elizabeth Warren once said, "A good education is a foundation for a better future"! Okay, a little cheesy we know, but our point is that education, wherever it may be, is an important process for every student and teacher. Today we run through the top three benefits of e-learning training to show you how this medium can be an even more powerful tool than in-person classes.
Accessible Anywhere, Anytime
The last thing we all want to keep hearing about is COVID-19, but for all its grievances this past year, one important lesson the pandemic has taught us is the necessity of being able to work from anywhere. Whether it be COVID-19, living remotely, trying to balance school with work, a broken-down car, a terrible thunderstorm or you simply slept through your alarm (not speaking from experience…), no student should be deprived of their education due to uncontrollable circumstances. This is where e-learning training becomes extremely useful, with students and employees being able to access learning modules, workshop and video learning from any location and at any time. This not only reassures teachers and employers that their students are accessing their content, but also allows for a wider range of people to educate themselves, as they are not restricted by work hours, transport or personal commitments.
(ALSO READ: How to Effectively Implement eLearning Training into Work Life)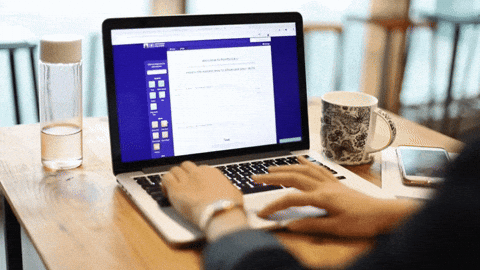 Need an Effective Training Solution for your Staff? Call us on 07 3324 0900
Time Saver
This feature of "anywhere, anytime" embraces the idea of saving time and in fact, that is exactly what e-learning training does! The debate of online verses in-person learning has been around for years and so there is no surprise that endless researchers have decided to investigate it. What they found was that e-learning training takes between 25-60% less time than in-person classes. Crazy right?! But wait, there's more! Not only does e-learning training save time for students, but it also makes the tutor's process of editing courses much more efficient. Particularly in school and university environments, updating and refining (online courses and content) is much simpler and faster than lengthy procedures of changing school curriculums. In a world where time is already so scarce, who wouldn't want to save some and get a better result?!
Personalised and Specific Training
There are many reasons why e-learning training delivers better outcomes for students, so lets delve into the benefits for teachers and employers. E-learning products can include video, photography, voice overs, activities, animation, virtual reality and assessments. These features not only increase viewer engagement, through interactive content, but also allow for businesses to fully personalise their courses. For example, VMP worked with the Queensland Department of Local Government, Racing and Multicultural Affairs to produce their immersive So You Want to Be A Councillor? e-learning course, including animated scenarios, interactive learning activities and video interviews that were specifically designed to convey essential information in a unique and fun way for the learner. But this isn't all! E-learning training can then go further and utilise learner data and analytics to gather information such as student engagement, how quickly students are completing courses and assessment results for course quizzes. By collecting this data, teachers and employers can analyse and refine their courses to ensure their classes are reaching students and achieving the best results possible.
E-learning training is a great tool for both students and teachers who value engaging, time efficient and personalised education. While in-person classes still have many benefits, the world is quickly moving towards hybrid online platforms and it's easy to see why!
You might also like:
Ready to Create Your Own E-Learning Training Course?
Take the first step in creating your tailored E-Learning training course. Get in touch with our VMP eLearning experts and bring your vision to life!
Explore our diverse collection of e-learning work by visiting our Projects page.
Stay in the loop with our latest e-learning projects by following us on Facebook, LinkedIn, and YouTube.