Sometimes, the engaging, entertaining, and highly interactive new eLearning course that you've implemented won't lead to the outcomes you're aiming for. Why? Well, a common mistake in eLearning design and development is that courses are created to deliver the required content, but not to meet your learner's needs.
Imagine your colourful, exciting course is Tokyo. It's easy if you try.
Now, Phoebe has a long history of travelling. She's been to every continent in the world, stayed at the Ritz Carlton, camped under the stars at Kakadu, and everything in between. She finds her way around with or without public transport, has rented cars and ridden camels, and never needs to ask anyone for help. Phoebe loves travelling and knows how to make the most of her journey – leave her by herself in Tokyo and she'll have a blast, coming back full to the brim with new stories, memories, and songs about Udon Noodle Duels.






Joey, however, has never had the chance to travel anywhere far from his New York apartment. He's spent his whole life in New York, the only world he knows. Leave him alone in Tokyo and he might not even know which country he's in! In fact, he might not even care – he's too busy trying to figure out how to buy a train ticket so that he can actually make it to his hotel room (where the mini fridge proceeds to break and he has to eat everything in it).


Best Learning Solutions for the Best Learning Outcomes! Talk to Us!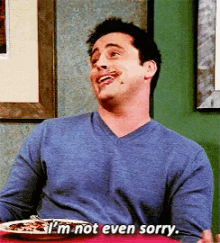 Although Joey, unable to read any signs, is initially stumped by the Tokyo train system, he manages to charm some friendly locals into helping him buy a ticket, board the train AND get off at the right station. He's excited about his first travel experience and doesn't hesitate to try new things or ask for help. Although he doesn't see as many sights as Phoebe, he still manages to see a few and enjoys most of his experience – however, still feels insecure about travelling in general and isn't sure whether he'll want to do it again. He returns home to tell tales of Thailand and its national dish, sushi, believing that was where he had travelled to.
Just like Joey, Chandler hasn't travelled before, excluding an unfortunate experience in Yemen. The big difference, however, is that Chandler has heard a number of travel tales from his Friends™, and not good ones. In fact, everything he has heard about Tokyo so far sounds anything but appealing to him. Leave him alone in Tokyo and he will go to the nearest café that serves grilled cheese sandwiches, speak only in English, and wait the trip out, caught up in a culture he doesn't understand and can't relate to. Chandler finds the whole experience very unpleasant, wondering if Tokyo could *be* any more daunting. He won't be returning to Tokyo and he certainly won't be recommending it to anyone.


Mr T has travelled a few times before but had been unlucky in Tokyo. The helicopter he was on broke down, stranding him in the middle of nowhere. He ended up in a filthy hotel with a very uncomfortable bed, and it rained the entire time. He saw some beautiful Japanese architecture and heard a little bit about the city's history but was so tired and cold during the trip that he only remembers being uncomfortable. Mr T's Tokyo experience depended mostly on external factors, like the weather, the hotel, and traffic or transport system.






Now let's swap the travel experience of Phoebe, Joey, Chandler and Mr T for their eLearning experience, and Tokyo for your eLearning course.
Phoebe has completed a number of eLearning courses before and knows how to navigate through the web, so we don't have to worry about her – at least for now. But what about Joey? From the Tokyo analogy, we can deduce that he has no idea what do, how to do it, or even why he has to do it. By giving the course a go (and with some frantic clicking around) he might get somewhere, but how much will he really learn? Definitely not as much as Phoebe! No matter how entertaining or interactive the course is, there's still a good possibility that people like Joey will finish without achieving your desired outcome (or under the impression that sushi is the national dish of Thailand).
Chandler will be reluctant to start the course. He hasn't done any eLearning courses or digital learning programs before and is unsure about them, plus some of his colleagues told him about eLearning courses they had done which were boring, dry, and full of 'complicated computer-y stuff'. As you can imagine, he won't be expecting to have a good experience – and that only makes learning harder!
A similar situation will occur for Mr T. He's no fool (in fact, he actively pities the fool) – he's more than willing to learn. However, his bad previous experiences will distract him and it will be hard to get him into the right, open mindset that he needs to actually learn.
This ignorance of the different learning types and needs is one of the most common mistakes you can make when designing and developing an effective eLearning course. When creating your fantastic, engaging and highly interactive course, it's crucial that you make sure it's accessible and speaks to all learners – not just your Phoebes. Realistically, they will be the least common type of learner anyway.
It's important to ensure that you have appropriate instructions in place for your Joeys, so they can understand what they have to do and why, as well as easy access to personal support any time they need it. For your Chandlers, instructions that give them a sense of security are crucial, as well as awareness of the ongoing support accessible and an easy layout to grow their confidence. To unlock the full learning potential of your Mr T's, your course environment must be friendly and inviting, with a clear structure and comfortable learning conditions, in order to negate any negative past experience.
And what about your Phoebes? Well – as experienced eLearners with a strong capacity for self -guidance and a wide range of computer skills, they won't appreciate a course that seems to be created for beginners. They need challenges and learn best when they can lead themselves through the learning process.
Powerful eLearning Course Design
Creating a powerful eLearning course that achieves your desired outcomes takes a lot more than engaging, interactive content. You need to consider your learners' backgrounds, their motivation or reluctance, their previous experiences and their digital literacy. Only then will you be able to create a course that speaks to all of your learners, gets your entire organisation on board, gives the right amount of guidance and self-guidance, and leads to learners' satisfaction and outstanding learning outcomes.
—
Contact Us at VMP eLearning
Let's discuss your company's staff training needs and the opportunity to get the best out of your workforce using educational science and tailored solutions. Contact us today on 07 3324 0900 or send us a message for an obligation-free appointment.
Connect with us on Facebook, LinkedIn, and YouTube
View our latest creations – head over to our Projects page
Got questions about eLearning? Check out our FAQs Page
—
Unsure about how to allocate your staff training budget?

Get a clearer picture of your staff training needs with VMP eLearning's Training Needs Analysis. Achieve better results with a consultation from our Education Specialist.
Other articles you might also like:
Audio is one element that gets frequently overlooked by during the development stages of elearning course design. Do you want sound effects when the learner hits the buttons? Do you want male or female voice-overs or both? Will there be music? All these questions come into play in the design and development process. Learn some of the common things to consider when deciding on audio for your e-learning project…READ MORE