Despite what your primary school memories of red crosses and Responsible Thinking Rooms might suggest, making mistakes is far from an issue in the workplace. In fact, mistake-making is actually an integral part of the learning process. 'Active' or mistake-led eLearning is the process of making mistakes and working constructively to understand them during training. It enables learners to retain the solution to a problem better than if they had simply memorized it. Like touching a hot stove or biting into a candle that smells a little too convincingly of salted caramel, it only takes one mistake to learn to employ caution well into the future.
But don't just take our word for it! According to Danish physicist Niels Bohr, "An expert is a person who has made all the mistakes that can be made in a very narrow field". Such an important step in the learning process, it's no surprise that mistake-led learning requires a specialised environment to be carried out successfully. Imagine the issues that would arise from mistakes made in high-risk industries. For instance, the pharmaceutical industry or the mining sector, where lives are on the line. For these industries, proper processes and compliance could literally be the difference between life and death.
So Why eLearning?
The rise of eLearning has been ground-breaking in providing organisations with exactly this kind of learning environment. Risk-free, adaptable, and solution-oriented, online learning courses present safe environments for students to learn from mistakes without the consequences of real-life scenarios. With the ability to engage in mistake-led learning, your students will be able to retain their training more effectively. They will also be able to focus more easily on critical concepts in the workplace, and undertake continuous improvement. Allowing your students to make mistakes safely during the learning process means they are less likely to happen down the line. An attractive prospect to the executives among us, don't you think?
Need an Effective Training Solution for your Staff? Call us on 07 3324 0900
Benefits of Mistake-Led eLearning
Mistake-led learning leads to solution-oriented thinking. Allowing your students to learn from their mistakes enables them to reflect on past experience when considering situations in the workplace. Not only will your staff be prepared to deal with problems as they arise but will be able to improve workplace practices, client satisfaction and your bottom line by successfully working through them. Of the plethora of benefits mistake-led eLearning offers to any organisation, we'll look at the two most notable.
Personal Growth, Problem-Solving and Critical-Thinking Skills
eLearning's risk-free environment is the ideal setting for mistake-led learning. By safely giving your learners the chance to explore the consequences of their actions, they're given the rare opportunity to take risks that they would otherwise not in a real-life situation. Your learners will have the space for innovation and creativity that leads to personal and professional growth.
Mistake-led eLearning encourages your learners to use their critical thinking and problem-solving skills. This method of learning acts like a recipe for effective training: a cup of making informed decisions and a tablespoon of understanding alternate outcomes creates the delicious end product of practical solutions. The icing on the cake (pun intended), is that any mistakes made can immediately be viewed as opportunities to learn – not reasons to go into a disaster-relief mode.
Diana Laufenberg shares her insights into mistake-led learning at a TEDX Mid-Atlantic Talk.
Boost Knowledge Retention and Comprehension
Traditional learning without opportunities for interaction and mistake-making (sometimes known as 'Death By Powerpoint') will inevitably bore your learners. Interactive, mistake-led eLearning allows your staff to immerse themselves in the training. It helps them to formulate their own solutions and apply critical workplace skills. In short, this makes for more effective learning.
There are a number of design methods you can take advantage of to "mistake-ify" your eLearning and boost your learners' knowledge retention and comprehension. First, you can utilise the 'Rewards Factor'. A promise of a reward is highly motivating to anyone. By adding a gamified or rewards-based element to your eLearning course, you can encourage your learners to overcome mistakes and consider alternate solutions in search of their cracker (read our blog on the Benefits of Gamified E-Learning). Alternatively, you can utilise peer-to-peer learning. We're sociable creatures, and the only thing more valuable than learning from our own mistakes? Is learning from the mistakes of others. By incorporating cooperative elements into your training modules, you open your learners up to angles that they have not considered. Plus, you get insight and encouragement in the face of the initial mistake-making frustration.
Feedback in eLearning
One of the most important and widely-used methods of implementing mistake-led learning, however, is feedback. Feedback on mistakes during any kind of learning immediately creates a more effective and informative learning environment. It allows learners to understand their mistakes as they occur, as well as, the direct consequences of the mistake, instead of after the moment of need has passed (as sometimes happens in real-life situations). Feedback aids your learners to form solutions themselves, in turn absorbing the information more thoroughly and committing it to their long-term memory. If the eLearning process is memorable, so too will be the eLearning content.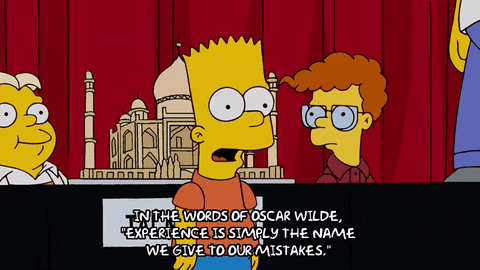 eLearning solutions provide any industry with a supportive learning environment that allows mistake-led learning and trains staff effectively. By allowing learners to not only observe but experiment and interact, they are given greater freedom to take the consequence-free risks that lead to professional growth, retained knowledge and better workplace practices. Put simply, mistakes in the learning process are not mistakes at all but chances to expand our educational potential.
On behalf of all of us at VMP eLearning, we wish you a career of mistakes.
Contact Us at VMP eLearning
To discuss your company's needs and the opportunity to get the best out of your workforce using educational science and tailored corporate training solutions, call us today on 07 3324 0900 or message us at VMP eLearning Brisbane for an obligation-free appointment.
Connect with us on Facebook, LinkedIn, and YouTube
Explore our latest work by visiting our Projects Page.
Expand your eLearning understanding with our FAQs Page.
Other articles you might also like:
There's nothing more that we can be proud of than coming up with well-structured and successful digital learning courses. Not to mention informative in ways that can be used in real-world situations. Know these five tips that utilise your learners time and experience through eLearning to the maximum capacity. [Read the full blog article]
---
Want more information on how VMP eLearning can develop the best training modules to suit your business needs? Contact us today on 07 3324 0900 or just send us a message via our contact form!
Achieve the right training outcome while cutting costs.

Our Education Specialist will conduct a Training Needs Analysis to help you streamline your program and save money.